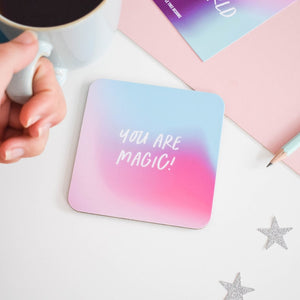 A pretty coaster to tell a friend, family member or colleague they are magic! The perfect little thank you gift the recipient can use everyday on their coffee table or office desk.

The coaster is 10cm square with rounded corners and can be wiped clean with a damp cloth.

Coaster has a cork backing.
Part of the new Swept Away range by OHC Maker Purple Tree Designs; a dreamy range that combines a soft yet bold colour palette with meaningful messages.
Images by Purple Tree Designs.