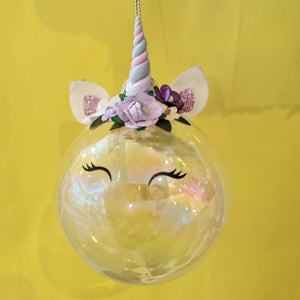 These glass unicorn baubles are utterly adorable! Perfect for all year round decoration.
Approximately 8cm in diameter this one is a clear bauble with a lilac and grey polymer clay horn and lilac/purple/white flowers.
Bauble is boxed. The stand is sold separately on another listing here: https://shoponline.ourhandmadecollective.co.uk/products/bauble-stand-the-crafty-little-fox
Due to the fragile nature of these items they are currently only available to collect from the shop.
Images by OHC.