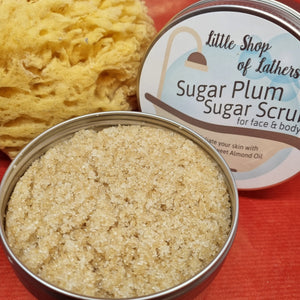 While visions of Sugar Plums danced in their heads....
Twas the Night before Christmas and you need this ultimate in pampering festive treats - our Sugar Plums Sugar Scrub!

Is your skin in need of a good old scrub to smooth it into looking brand new? Our handmade All Natural Sugar Scrub Exfoliators will polish up your skin just in time for those festive parties! It's gentle enough to use on your face as well as body yet tough enough to deal with stubborn dry skin on your elbows, knees and heels. Sugar scrubs are excellent to use in winter time to add extra moisturisation to dry, winter skin - let your skin drink!

Handmade by our co-founder Little Shop of Lathers and packed full of brown and white Sugars and Sweet Almond Oil to give great moisturisation and the festive scent of Sugar Plums to flush out toxins and smooth your skin. We can't promise that it will make you into a fab-u-lous dancer though!

To use simply scoop a little amount and massage onto wet skin in a circular motion (best used in the shower), then rinse off. Warning, this product can make the bath/shower floor a little slippy so please be careful!

You will receive a 175g serving in an aluminium tin with a screw tight lid. A little of this goes a long way!

Although the products are made from natural ingredients with no added chemicals or preservatives, the majority do contain a small quantity of Sweet Almond Oil (just a precautionary note for Nut Allergy sufferers). None of the products contain Palm Oil, and they never will.

Happy pampering!
Images by Little Shop of Lathers