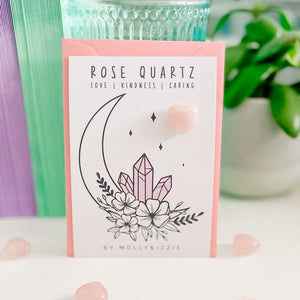 This delicate little crystal heart makes a wonderful gift!

The A7 display card and pretty matching envelope are perfect for popping in the post!

Designed by Molly&Izzie in their Cumbrian Studio, each of the crystals have been carefully chosen for the properties that they contain. 

This one is Rose Quartz. It promotes love, kindness and caring.

See the other hearts and worry crystals in the range on separate listings.
*Please note that products are unsuitable for children aged 5 and under and all children over this age should be supervised.*

Images by Molly&Izzie