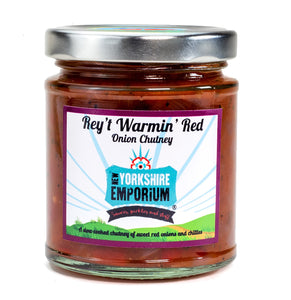 Made in Holmfirth by OHC Maker New Yorkshire Emporium, this is a slow cooked chutney of sweet red onion and chillies. This chutney has a mild to medium chilli kick.
Ingredient Listing and Associated Allergen Advice: (allergens in bold) : red onion, sugar, red peppers, coriander, 100% pure corn oil, cider vinegar (sulphites), salt, pepper, tomatoes, garlic, water, smoke, mixed chillies (birds eye, scotch bonnet).
190g Jar.
Images by New Yorkshire Emporium.