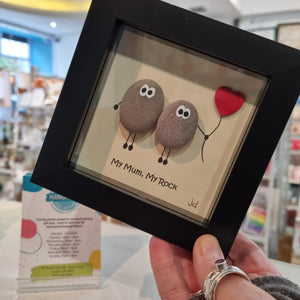 The perfect gift for Mothers Day or birthdays! A quality glass fronted box frame featuring a pebble mum with her child holding a heart balloon.
Handmade using wood and natural pebbles. 
Wording underneath says My Mum, My Rock.
Dimensions: Width-12.5cm, Height-12.5cm, Depth-3.5cm
Gift boxed so ready to give as a gift!
As these items are handmade, they can differ slightly from the photographs, so although the overall design will be the same they may contain slightly different coloured backgrounds, pebbles, etc. 
Images by OHC.