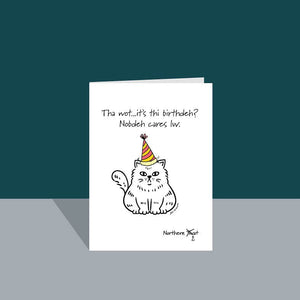 Now we're talking, combining straight talking Yorkshire slang with a Cat and you end up with a genius card for proper cat loving Yorkshire folk!

This hilarious greetings card is part of the JAM Artworks Northern (twat) Cat....we all know one range and is A6 in size.

Includes Kraft Envelope 
Card is blank inside for your own message. 
 Images by OHC Maker JAM Artworks