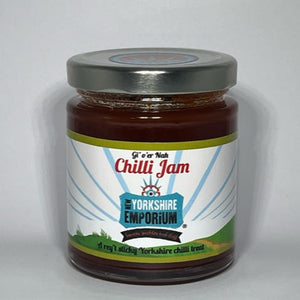 Made in Holmfirth by OHC Maker New Yorkshire Emporium, this is a Reyt Sticky Yorkshire Chilli Treat!
A sweet and spicy chilli jam. Vegan friendly and gluten free.
190g jar.
Ingredient Listing and Associated Allergen Advice: (allergens in bold) : red peppers, mixed chillies (serrano, jalapeño, scotch bonnet, bird's eye), sugar, cider vinegar (sulphites), tomato, apple, onion, ginger, garlic, smoke, lemon, salt.

Images by New Yorkshire Emporium.