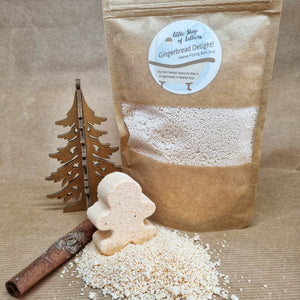 Handmade by our co-founder Little Shop of Lathers, this is Gingerbread Delight fizzing bath dust - a perfect little festive treat for gingerbread lovers! It's also a lovely little stocking filler perfect for Secret Santa gifts :)

See our other listings for the full range of delicious Gingerbread bath and body treats!

Bath Fizz is simply a deconstructed bath bomb, it is a bath bomb which hasn't been shaped. It works in exactly the same way as a formed bath bomb, but it means it can easily and safely be posted without damage :) LSOL developed the Bath Fizz as part of our Letterbox gift range; lots of lovely pampering treats which fit through a letterbox.

To use Bath Fizz simply run a hot bath and pour in the entire packet when you are ready to get in. Soak away your troubles and cares (for the duration of your bath at least) and relax and unwind with our feel good fizz. Packet contains full instructions on each product and how to use it.
This pampering treat is a little slice of festive attainable luxury and self care without breaking the bank.  And this is a zero waste product as you use it aaaaaalll up!

Although the products are made from natural ingredients with no added chemicals or preservatives, the majority of them do contain a small quantity of Sweet Almond Oil (just a precautionary note for Nut Allergy sufferers).

Images by Little Shop of Lathers.