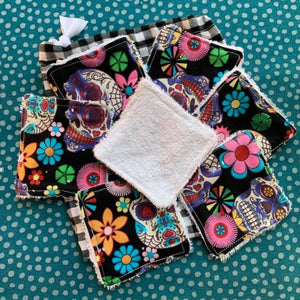 These soft reusable pads are made by OHC Maker Dawny's Sewing Room from small offcuts of cotton sugar skull fabric and backed with super soft bamboo towelling. They are eco friendly in reducing waste fabric for our Maker and saving you money in the long term by reducing the need for cotton wool pads which end up in landfill.

The pads measure approx 3 inches or 7 cm square.

Wash in the bag at up to 40 degrees with the rest of your washing of similar colours and air dry separately.
(Not recommended for nail polish removal)

You will receive 7 wipes and a washing bag.
Images by Dawny's Sewing Room.