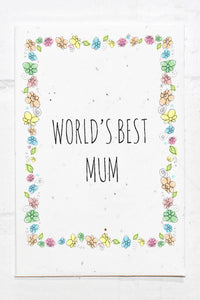 This range of cards by Eco Friendly Cards are just that; these unique cards are made with 100% recycled paper embedded with wildflower seeds so they can be planted after the recipient is finished with them!
After the card has been gifted plant the whole card in a garden or a pot and grow beautiful flowers: you simply soak the card in water and cover with a thin layer of soil, and keep it moist until seedlings are established! 100% eco friendly.
Full instructions are detailed on the back of the card.

Card is A6  in size with a recycled kraft envelope.
A 'small-batch' handmade process ensures this seed paper will really grow! Each sheet is crafted one at a time and slight variations in texture and colour is not uncommon. These subtle variations are the mark of a truly unique product.  Each sheet is packed with a diverse mix of annual and perennial wildflower seeds with 150–400 seeds per 4"x4" area.

The seed mix, used features smaller seeds for a smoother surface. It also grows well in most regions.  Contains a mix of:
Corn Poppy (Papaver rhoeas)
Catchfly (silene armeria)
English Daisy (bellis Perennis)
Sweet Alyssum (loblaria maritime)
Spurred Snapdragon (linaria maroccana)
Black Eyed Susan (rudbeckia hirta)
Images by Eco Friendly Cards.