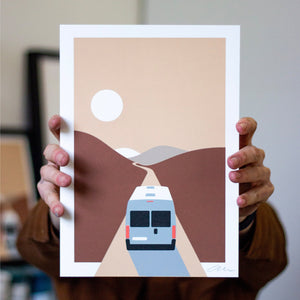 Passing Places

A new campervan screenprint. Inspired by a trip my girlfriend and I took around the famous North Coast 500 route in Scotland. Much of the route is single-track roads and you have to look for the designated spots to let people pass.

The camper van print is five colours, hand-pulled screen-printed poster. Printed on 300gsm off-white paper and is A4 size (29.7cm x 21cm / 8.27" × 11.69" - an easy size to frame).
Prints sold are unframed.
Images taken by the designer OR8 Design.