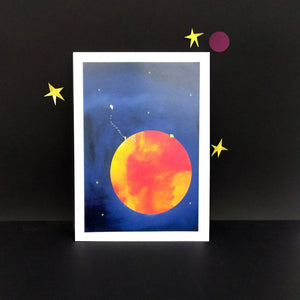 This A4 Mars Camping print is part of my space camp series. It shows some people on a different holiday to Mars! All happy flying a kite in space!

I created this is a similar way to my other work. I scan in painted textures and work them up digitally to create the final piece.

This print is part of a run of 100 and is printed onto 210gsm, uncoated matte paper. I have my work printed locally in Sheffield.

It has a white border around the edge, making it suitable for framing.
Image by Illustrator Kate.