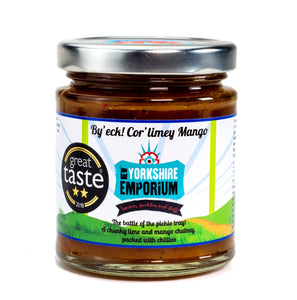 Made in Holmfirth by OHC Maker New Yorkshire Emporium, this is the battle of the pickle tray! A lime and mango chutney, packed with chillies.
Winner of two stars in the Great Taste Awards 2018.
190g Jar.
Ingredient Listing and Associated Allergen Advice: (allergens in bold) mango, lime, apple, mixed chillies (serrano, birds eye, scotch bonnet), ginger, cider vinegar (sulphites), sugar, turmeric, cumin, salt, chilli powder, cardamom, water.
Images by New Yorkshire Emporium.