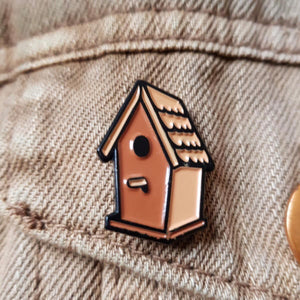 A bird house/bird box soft enamel pin badge.
Wear a little part of the outdoors with this pin badge, this badge was inspired by watching the birds feed from the bird house in the garden (and the hope that the cat doesn't make it to them first!)
Designed by OHC Maker Or8 Design.

Measuring 20mm x 25mm with a black rubber backer and  part of a limited edition of 100
Images by Or8 Design.