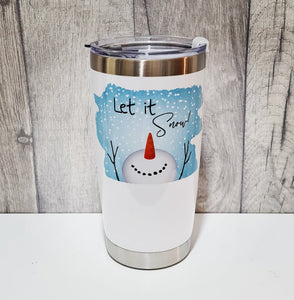 Thermal travel mug by OHC Maker The Crafty Little Fox with a super cute Snowman and the wording 'Let it Snow'
These cups come with a leak proof lid. They have a capacity of 600mls (20oz) and are ideal for keeping drinks cool for up to 12 hours and hot for 8 hours making them very versatile.
To prolong the life of the personalisation please hand wash only. Do not leave them to soak and do not use the can to store hot liquids or place it in the freezer or dishwasher.

Images by The Crafty Little Fox.