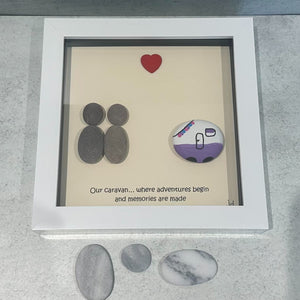 Here we have a quality glass fronted box frame which would make a unique and quirky gift for a happy camping couple! Featuring a pebble couple, a wooden heart and a pretty purple painted pebble caravan.

Handmade using wood and natural pebbles. 

Wording underneath says Our caravan… where adventures begin and memories are made.
Dimensions: Width-17.5cm, Height-17.5cm, Depth-3.5cm
Gift boxed so ready to give as a gift.
As these items are handmade, they can differ slightly from the photographs, so although the overall design will be the same they may contain slightly different coloured backgrounds, pebbles, etc. 
Images by Pebbled.