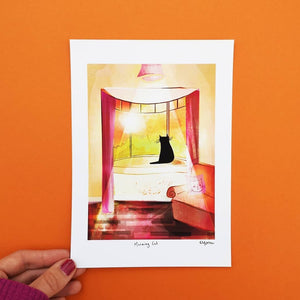 This A5 cat print features a black cat, staring out at the day time world going by. It's based on OHC Maker Illustrator Kate's cat who loves to perch up on the windowsill and pretend she's royalty. 

As you know, we are big fans of kitty cats and we think this would make a lovely gift for fellow cat fans or for yourself.  

This A5 print measures 14.8cm x 21cm and is printed onto a matte 240gsm paper and hand signed.  

Image by Illustrator Kate.