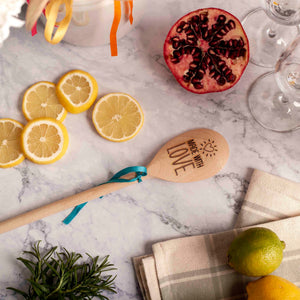 A beautiful wooden spoon with 'Made With Love' engraved on it.

The motif turns a wooden spoon into a wonderful gift. You don't have to spend a lot to give a lot.

Keep your wooden spoon nice and clean with a wash in the sink with a little washing up liquid if needed. Do not keep submerged in water or put in the dishwasher. Due to the product being a natural plant-based product this will absorb the water and the wood will expand. Just rinse and stand up to dry!

Made from the sustainably sourced material 'Hevea' Wood, a type of rubberwood which is repurposed from trees that have already served a useful function. 
Images by Lowrey Engraving