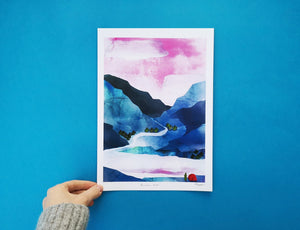 This A4 pink and blue mountains print is an imaginary landscape that I created recently. I've used scanned in paint and worked up the image digitally, adding in the details like the tent and person in their sleeping bag.

It's printed onto a thick 280 gsm, uncoated, matte paper so that the textures show through.

This is one of my favourite pics as it's dreamy and somewhere I imagine would be nice after a busy day. I really like creating imaginary landscapes that you just want to step into. This ones a chilly one, perhaps a warmer one next!

Image by Illustrator Kate.