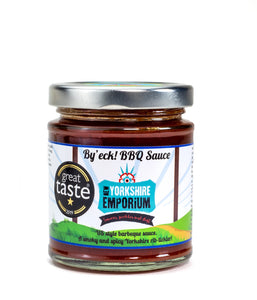 Made in Holmfirth by OHC Maker New Yorkshire Emporium, this is a smoky and spicy barbecue sauce. Perfect as a marinade, condiment or cooking sauce.
Winner of 1 star in the Great Taste Awards 2019.
190g Jar.
Ingredient Listing and Associated Allergen Advice: (allergens in bold) peppers, onions, garlic, tomatoes, mixed chillies (serrano, jalapeño, birds eye), cider vinegar (sulphites), sugar, baking powder, chilli powder, garlic, salt, pepper, celery, cloves, paprika, 100% pure Grade A Amber maple syrup, mustard, smoke, turmeric, lemon, water
Images by New Yorkshire Emporium.